CHECK THE LABEL FOR HIDDEN SALT
Did you know that most of the salt we eat is added to food before we buy it? Too much sodium increases blood pressure, a leading risk factor for heart disease and stroke. For this very reason, it is advisable to check the label and:
•Avoid foods with more than 1.25g of salt per 100g
•Avoid processed foods i.e any raw agricultural product that has been subject to processing, such as canning, cooking, freezing, dehydration, or milling
WHY IS REDUCING SODIUM IMPORTANT?
Can help prevent or control high blood pressure, also known as hypertension, which is a leading contributor to cardiovascular disease (CVD), disability and death.
HOW CAN WE REDUCE SODIUM IN OUR DIET?
At the Grocery Store
•Check Nutrition Facts labels while shopping to find the lowest sodium options of favorite foods.
•Limit purchases of processed foods high in sodium.
Eating Out
•Ask the chef for meals with no added salt
•Opt for restaurants that offer lower sodium food choices
At Home
•Eat a diet rich in fresh fruits and vegetables. You can opt for frozen or canned fruits and vegetables, but select no-salt-added varieties and packages without sauce.
•Prepare more meals from fresh ingredients at home, where you can control added salt.
•Get enough potassium each day. Potassium can help reduce the effect of sodium on blood pressure and is found in many foods, such as bananas, potatoes, beans, and dairy products.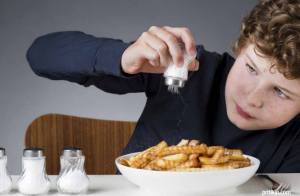 WHICH FOOD CATEGORIES ARE THE BIGGEST CONTRIBUTORS OF SODIUM?
REFERENCES
http://www.cdc.gov/features/sodium/
http://www.cdc.gov/salt/food.htm